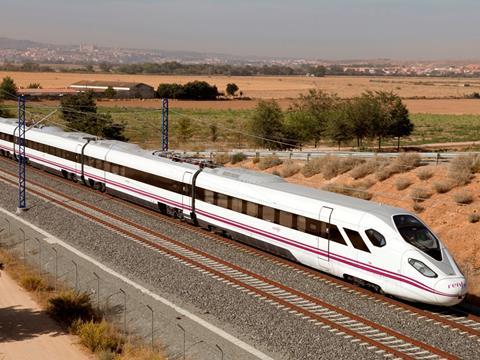 SPAIN: The ADIF Board of Directors has approved the award of a concession for CAF to develop and operate a railway test centre at Corella, 92 km from Pamplona in the Navarra region. The site is around 100 km from CAF's existing research and testing facilities at its Zaragoza plant.
ADIF had invited bids for the test track project in May, acting on behalf of the Ministry of Development. Among the tender criteria, ADIF said the ministry would be looking at both the technical aspects and the wider benefits for the state-owned rail sector, the impact on the local economy and the number of direct and indirect jobs likely to be generated.
Having a domestic test centre comparable with the facilities at Velim in the Czech Republic, Wildenrath in Germany or Valenciennes in France is expected to encourage technical development within the Spanish railway industry. ADIF notes that the USA, China and Japan have their own dedicated testing facilities.
The test track will make use of a 4 km section of the currently disused Soria – Castejón route, between Castejón and Cintruénigo. ADIF has allocated a total 3·6 ha of land for the project, and the concessionaire will be able to make use of the existing station buildings at Corella.
According to ADIF, the location has been selected for both its technical characteristics and viability, which make the line ideal for testing rolling stock and other railway equipment. As well as dynamic trials, the infrastructure manager says the facility may also be used for structural loading and deformation tests on vehicles suspensions, couplings and 'all types of components'.
The concession agreed at the ADIF board meeting on July 17 will initially run for 20 years, with five-year extensions up to a maximum of 35 years. It also provides for a 50% expansion of the land area if more space is required as the test centre develops. Another clause provides for amendment or cancellation of the concession in the event that the Soria – Castejón line is reopened for regular traffic.