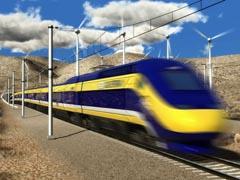 USA: The California High Speed Rail Authority released a third substantially-revised business plan on April 2, covering construction of an initial 480 route-km of dedicated high speed tracks between Merced and the San Fernando Valley north of Los Angeles.
CHSRA's original vision of a 1 100 km network running from Sacramento in the north of the state to Anaheim in the south has now been scaled back to save $30bn from the previous projected capital cost of $98·5bn.
Much of this saving comes from a decision to shelve plans to build dedicated tracks for high speed services to reach central Los Angeles and San Francisco. Instead, the existing Metrolink and Amtrak corridor between the San Fernando Valley and Anaheim and the Caltrain route from San Jose to San Francisco will be electrified and substantially upgraded at a cost of $2bn to allow shared running between high speed and commuter rail trains. Last month a memorandum of understanding for electrification and the installation of PTC on the Caltrain route was agreed by the Metropolitan Transportation Commission, five Bay Area transport agencies, two municipalities and CHSRA. The business plan calls for Caltrain electrification to be completed by 2020.
Within a budget of $68·4bn, CAHSRA hopes to start construction on an 'initial operating segment' in the Central Valley by early next year with a view to launching commercial services by 2023. Through services giving a 'one seat ride' over the 832 km from Anaheim via Los Angeles to San Francisco would start in 2029.
CAHSRA confirmed that $6bn in funding is already in place to start construction, whilst 'cap and trade funds' would be used to eliminate the need for state or federal support to complete the initial section of route.