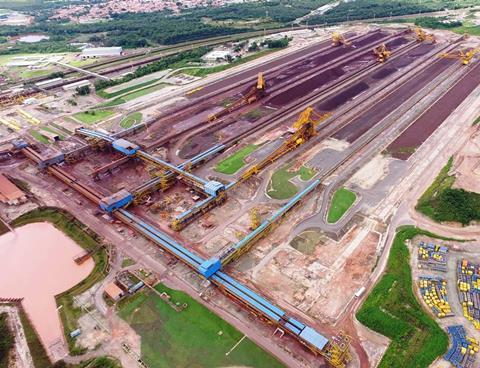 BRAZIL: Tracklaying on the 101 km branch from the Carajás Railroad main line to Vale SA's S11D mining project has been substantially finished, the company announced on July 29.
Construction locomotives are now able to traverse the entire length of the line. Completion of the branch from the junction near Parauapebas marks a key stage in the US$14·4bn project, which is due to come on stream later this year.
At the Ponta da Madeira port near São Luís in Maranhão state, 'assisted operation' of the terminal that will handle ore from the S11D site has begun. The site has two rotary car dumpers from where the ore will be moved to ships via a suite of conveyor belts, a stacker and two reclaimers.
Of the total investment cost, US$7·9bn is being spent on constructing the branch line, double tracking part of the 892 km Carajás Railroad main line and expanding the Ponta da Madeira terminal. Acording to Vale, the S11D project is now 70% complete.
Read more about the Carajás Railroad expansion programme in the March 2016 issue of Railway Gazette International, available to subscribers in our digital archive.