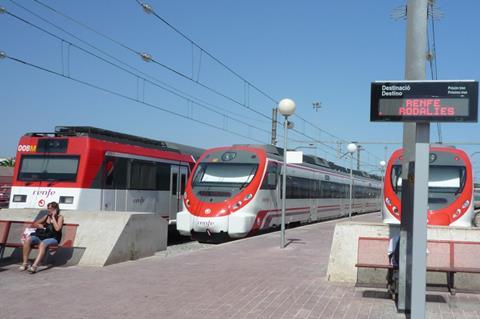 SPAIN: Infrastructure managers ADIF and ADIF Alta Velocidad have begun a €280m programme to enhance the network in Catalunya, with a number of projects to be undertaken in 2020 and early 2021. These include:
installation of a third running rail to provide dual-gauge track on the line between Castellbisbal, the current southwestern end of 1 435 mm gauge, and Vila-Seca, west of Tarragona. Completion is planned for mid-November;
gauge enhancement and TSI compliance works in the 1 068 m long Martorell tunnel to facilitate container traffic;
strengthening embankments between La Granada and Lavern-Subirats, and rehabilitating the disused 810 m tunnel at Castellbisbal to enable 2·1 km of abandoned line to be brought into use linking Castellbisbal station with the viaduct crossing the River Llobregat near Martorell. This will enable three running lines to be provided;
four-tracking to enable the diversion of Barcelona – Mataró – Maçanet R1 and RG1 suiburban services to serve the La Sagrera multimodal interchange in the future;
reconstruction of a bridge over the River Tordera on the Barcelona – Mataró – Maçanet coastal line which was damaged during severe storms in January. A new 221·3 m long five-span bridge is to be built. At present this line is closed between Malgrat and Blanes, and it is hoped that R1 and RG1 services can be reintroduced by late 2020;
strengthening of sea defences on 2·2 km of sea wall between Mataró and Cabrera de Mar;
rehabilitation of the Toses summit tunnel on the Barcelona to Puigcerdà and La Tour de Carol line;
remodelling of 1 435 mm gauge tracks at Barcelona Sants.
Separately, regional operator Ferrocarrils de la Generalitat de Catalunya has called tenders for a study to evaluate work needed to reopen the 600 mm gauge Carrilet de Estany Gento high altitude industrial railway in the Pyrenees as a tourist attraction, complementing the nearby 1 668 mm gauge railway between Lleida and La Pobla de Segur.