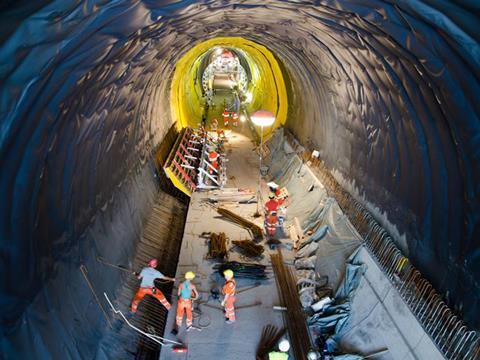 SWITZERLAND: The Federal Supreme Court has upheld two appeals by the preferred bidders against the Federal Administrative Court's decision to block the award of two contracts for fitting out the 15·4 km Ceneri base tunnel.
The losing bidders for the contracts had appealed to the Federal Administrative Court, which ruled in March that the contracts should be retendered. However the preferred bidders then launched their own appeal to the higher court.
In August project promoter AlpTransit Gotthard warned that the opening of the tunnel would have to be put back from December 2019 if the contracts could not be awarded to the preferred bidders, with a significant impact on planned changes to the national timetable.
The SFr96·4m tracklaying contract will now signed with the Mons Ceneris consortium of Mancini & Marti, Marti Contractors, Marti Tunnelbau, Pizzarotti, GCF and Valditerra Lavori Ferroviari. The SFr129m Railway Systems & Overall Co-ordination contract will be signed with the CPC consortium of Cablex, Porr Suisse, Porr Bau, Condotte, Cossi and LGV.