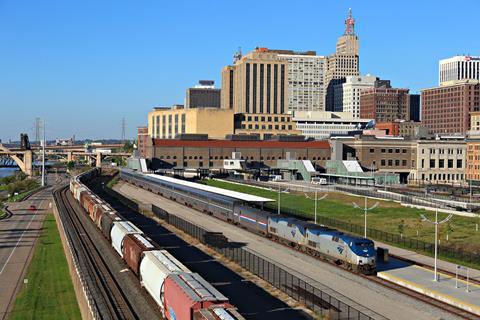 USA: Plans to launch a second daily inter-city service between Chicago and Minneapolis-St Paul are set to move forward following the award of federal funding under the Consolidated Railroad Infrastructure & Safety Improvement grant programme.
The two conurbations are currently only linked by Amtrak's long-distance Empire Builder, which has recently been reduced from daily to thrice-weekly as part coronavirus-related cuts. Amtrak's state-supported Hiawatha Corridor provides a more intensive service over the southern section of the route between Chicago and Milwaukee.
A part of this year's round of CRISI grants, announced at the end of September, the Federal Railroad Administration will contribute $31·8m to the improvement project, matching $21·2m in local funding from Amtrak ($5m)and the states of Wisconsin ($6·2m)and Minnesota ($10m).
The money will complete final design work for six infrastructure improvements along Canadian Pacific's Soo Line route which hosts the Amtrak services. These include lengthening passing loops, modifying turnouts for higher speeds, signalling enhancements and bridge improvements. The works would provide capacity for the planned state-supported second train between Chicago and the Twin Cities and an eighth daily Hiawatha service each way.
Another $15·6m CRISI grant has been awarded to Michigan Department of Transportation to fund level crossing improvements on the section of Amtrak's Michigan Line between Dearborn and Kalamazoo, where the state hopes to increase line speeds for 177 km/h operation. Washington State DoT has been granted $3·7m for the third phase of a landslide mitigation programme at Mukilteo, where the BNSF route hosts an average of 14 passenger and 21 freight trains per day.