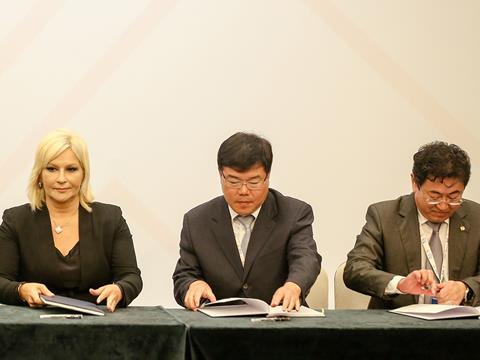 SERBIA: A €943m agreement for the modernisation of the 108 km section of the Beograd – Budapest corridor between Novi Sad and the Hungarian border at Subotica was signed by Serbia's Ministry of Construction, Transport & Infrastructure, China Railway International and China Communications Construction Co on July 7.
The work to raise speeds and capacity on the route is expected to start in 2019.
Serbia had secured beneficial terms after negotiating the contract for more than a year, Minister Zorana Mihajlović said after the signing ceremony on the sidelines of the seventh China & Central & Eastern European Countries '16+1' summit in Sofia.
CRI and CCCC had previously been appointed main contractors for the modernisation of the 75 km Beograd – Stara Pazova section of the route from the capital to the border.
RZD International is modernising and double tracking the 40 km Stara Pazova – Novi Sad section of the corridor under a US$248m contract which includes the construction of three viaducts, 19 bridges, and a new station at Beška. The Russian Railways subsidiary is also building the new Čortanovci tunnel under a US$350m project financed from a Russian loan (75%) and the Serbian budget (25%), with opening expected in early 2022.
On July 10 the Western Balkans Investment Framework announced a €2·0m grant to support planning of the Niš railway bypass, and €3·5m to plan modernisation of the Niš – Prеšеvo (– Skopje) line.
Read more about Chinese involvement in the Beograd – Budapest upgrading project in the January 2018 issue of Railway Gazette International magazine, which subscribers can access in the digital archive.