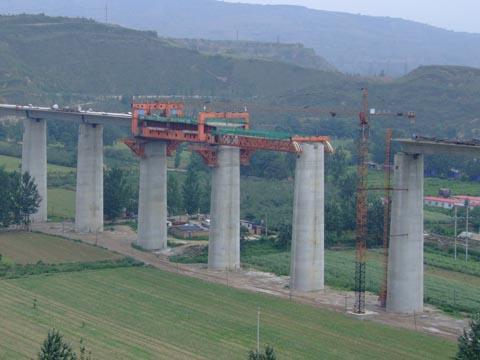 CHINA: The final 527 km of the Southern Xinjiang line between Aksu and Korla opened for traffic on December 5 with the departure of a freight train from Aksu. The 1449 km line has been built in stages with the fiorst phase opening in 1984. It is designed for 160 km/h operation.
Construction of the Yancheng – Lianyungang railway will start soon. Expected to cost 26bn yuan, it will include 234 km of double track and 76 km of single-track branch, with 12 stations and 90 bridges and viaducts totalling 149 km. Primarily intended for passenger services, the line will be designed for 200 km/h running. Opening is planned for the end of 2017, along with the Qingdao – Lianyungang and
Shanghai – Nantong lines which will together form a coastal route linking the Shandong peninsula with the Yangtse delta.
The National Development & Reform Commission has confirmed plans for the 224 km Huanghua – Dajiawa line to improve links around the Bo Hai coast for passenger and coal transport. The route starts at Huanghua Nan and runs through Cangzhou, Bingzhou and Dong-ying, crossing the Yellow River at Datianjia and heading east to Weifang and Dajiawa.
A Lianyungang – Zhenjiang line will run for 312 km along the coast of Jiangsu province. The planned 420 km Nanchang – Ganzhou line would have stations at Xiangtang, Fengcheng, Zhangshu, Xingan, Xiajiang, Ji'an, Taihe, Wan'an and Xingguo.
A 574 km line would run from Yinchuan to Xi'an, and include double tracking of sections of the 266 km line from Pingliang to Xi'an.
A 366 km line between Quzhou and Ningde costing 30·5bn yuan has been approved, as well as work to enhance capacity of the E'mei to Mi'yi section of the Chengdu – Kunming railway.