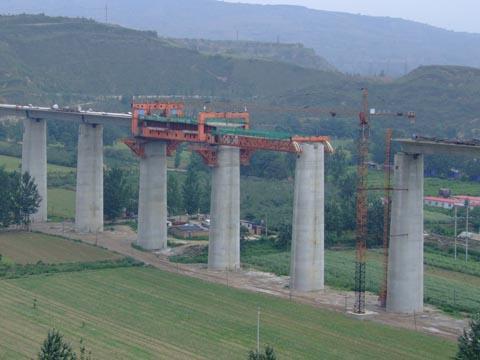 CHINA: Construction of a 250 km/h Passenger-Dedicated Line between Chongqing, Qianjiang, Zhangjiajie, Changde and Changsha is set to start this year for opening in 2015, Chongqing Municipal Development & Reform Commission has announced.
Meanwhile, construction of the 256 km Dezhou - Dajiawa line in Shandong province has now begun, with work underway on three of six large and 14 mid-size bridges required.
China Railway Construction Corp has begun a 840m yuan project to rebuild the Zhongshankou - Xinweiya Bridge section of the Lanzhou - Urumqi route, reducing gradients from 1·25% to 0·6% though the construction of 152 km of new electrified alignment to replace 105 km of existing line.
A signalling, power and telecoms integration project on the 262 km Guangxi Coastal Railway between Nanning and Beihai was launched on April 26. This aims to increase capacity on the 250 km/h route from 2012.