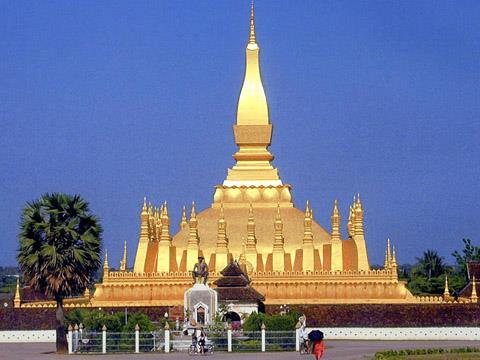 LAOS: Ceremonies were held in the northern city of Luang Prabang on December 25 to mark the launch of construction of the 414·3 km rail link from the Chinese border to Vientiane.
Prime Minister Thongloun Sisoulith formally turned the first sod and struck a gong to mark the start of construction. He was accompanied by former Deputy Prime Minister of Somsavat Lengsavad, Chinese Ambassador Guan Huabing, and Minister of Public Works & Transport Bounchanh Sinthavong, as well as the Chairman of the Laos-China Railway Co Huang Difu, General Manager of China Railway International.
Bounchanh said that the railway would be of 'great significance' in boosting socio-economic development, strengthening economic ties between China and the ASEAN region, as well as boosting trade, investment and tourism. 'Once completed, the railway will benefit Lao people of all ethnic groups, reducing the cost of transport, and stimulating the development of the agricultural and industrial sectors' he explained.
Huang told the guests that engineering design had been underway since the signing of the formal project agreement in November 2015, along with the setting up of LCRC and the award of construction contracts to various China Railway Group subsidiaries. Land acquisition and site clearance have also been making good progress, he reported. This has included the removal of undeploded ordnance.
Starting from the current CRC railhead at Mohan on the China-Laos border and passing through the Laotian border town of Boten, the 1 435 mm gauge line will then run south to the capital the cities of Luang Prabang and Vang Vieng. It will terminate at Nong Khai which is currently served by a metre-gauge cross-border link from Thailand.
Although Chinese contractors have been building and operating railways in many parts of the world for more than four decades, the line to Laos is the first such railway linking directly to the CRC network across the Chinese border. The single track electrified mixed-traffic line is to be built to China's GB Grade 1 standards, suitable for 160 km/h passenger and 120 km/h freight trains. The mountainous terrain will require 258·5 km of bridges and tunnels. The cost is estimated at 37·4bn yuan, and construction is expected to take five years.