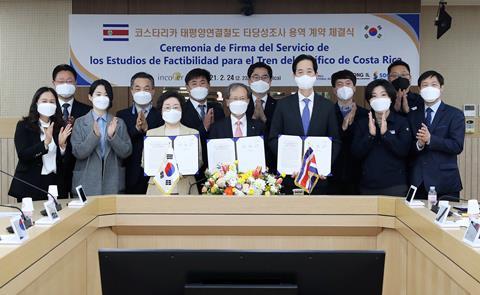 COSTA RICA: Railway agency INCOFER has awarded Korea National Railway, Dong Il Engineering and Soosung Engineering a contract to study the feasibility of reviving the 98·3 km line running west from the capital San Jose with Puntarenas on the Pacific coast.

KNR said the contract signed on February 24 was a significant win as it had been competing against companies from European countries including Spain, which have traditionally been the major players in the Central and South American rail market.
'This order is expected to serve as a bridgehead for entry into the railway market in Latin America such as Costa Rica and Peru in the future', said Chairman Han-young Kim.
KNR had taken its first steps towards entering the market through technical exchanges with Costa Rica. It has provided railway project management consulting services for the Inter-American Development Bank since 2019, and last year formed a consortium to bid for work to develop an 84·9 km electrified double-track line to relieve road congestion in the San Jose metropolitan area.