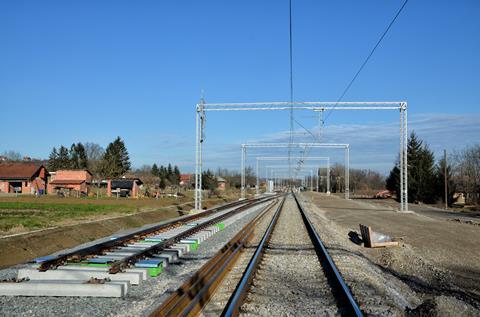 CROATIA: HŽ Infrastruktura has awarded Cengiz Insaat Sanayi ve Ticaret a 2·42bn kuna contract to double-track and modernise the 43·2 km line from Križevci to Koprivnica and the Hungarian border at Gyékényes.
This route forms part of the Croatian section of the TEN-T Mediterranean Corridor linking central Europe with the Adriatic ports of Trieste, Koper and Rijeka. The modernisation of the corridor is said to be the largest rail infrastructure project in the recent history of Croatia, and the work is being co-financed by the EU's Connecting Europe Facility
Upgrading of the Križevci – Gyékényes line will require the construction of seven bridges, including a new double-track structure spanning the River Drava, three viaducts, eight road overpasses, three road underpasses and nine pedestrian subways.
The sinous Carevdar – Lepavina section will be completely realigned, shortening the route between Križevci and the border by around 600 m. Maximum speed on the whole line will be raised to 160 km/h.
The existing stations at Lepavina and Koprivnica are to be modernised and remodelled, while a new station will be built at Novo Drnje, close to the border. The smaller stations at Majurec, Carevdar, Vojakovački Kloštar and Sokolovac will also be modernised, and a new stop provided at Peteranec.
Double-tracking and modernisation of the Križevci – Zagreb section of the corridor is currently underway between Križevci and Dugo Selo, but this work is reportedly running more than two years behind schedule.
Tendering is expected to start this year for improvements to the Zagreb – Rijeka line between Hrvatski Leskovac and Karlovac, following the signing of a grant agreement for this work in December 2019.