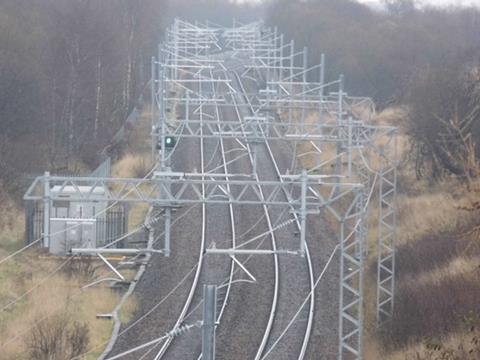 UK: Electric passenger services began operating between Glasgow and Cumbernauld on May 19, following commissioning of 50 km of 25 kV 50 Hz electrification between Springburn and Cumbernauld.
Electrification was undertaken by Carillion as part of a £80m upgrade of the route. Completion sees the number of services on the line increased from 36 each weekday with 5 500 seats to 59 services with 11 500 seats, with earlier and later trains now operating between Cumbernauld and Motherwell. There will also be additional stops at stations in Glasgow.
'The launch of these electric services is a huge milestone for the Edinburgh – Glasgow Improvement Project and the Cumbernauld electrification has been delivered on time, on budget and well ahead of this summer's Commonwealth Games as promised', said Scottish Transport Minister Keith Brown. He described EGIP as 'one of the biggest infrastructure investments by this government, and a central part of our ambition to ensure a railway which is fit for Scotland's future. It will result in 30% more seats and around 20% faster journey times on our flagship route.'
David Dickson, Network Rail Route Managing Director for Scotland, said 'we are making good progress elsewhere in developing plans for the electrification of the main Edinburgh – Glasgow line and with the redevelopment of Glasgow Queen Street, and look forward to also delivering these projects as quickly and cost-effectively for the Scottish Government'.