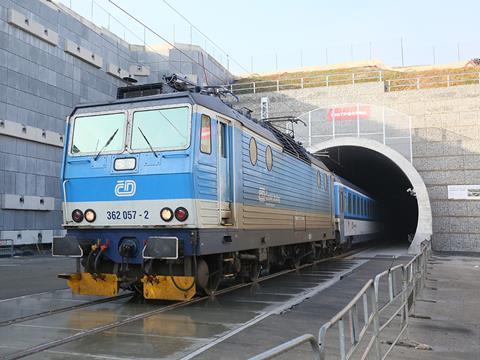 CZECH REPUBLIC: Infrastructure manager SŽDC has launched works on several long-awaited electrification schemes.
Last month a consortium of Subterra, OHL ŽS, Firesta-Fišer and EŽ Praha was awarded a KC1·399bn contract for 25 kV 50 Hz electrification of the 6·8 km regional line from Šakvice to Hustopeče. The work to provide a line speed of 85 km/h includes track renewals, resignalling and station remodelling, along with the construction of new platforms. Completion is scheduled for December 2020.
In December 2019 electric services are due to be launched on the reinstated spur from Hrušovany u Brna to Židlochovice, where regular passenger services ceased as long ago as June 2 1979. The KC689m rehabilitation project being carried out by Subterra and OHL ŽS involves laying new track suitable for 80 km/h operation, realignment to reduce the length of the route from 2·97 km to 2·7 km, 25 kV 50 Hz electrification, resignalling and reconfiguring Hrušovany station to allow the operation of direct services from Brno.
Elsewhere, the 5·6 km Prunéřov – Kadaň routes is being electrified at 25 kV 50 Hz and the 1·5 km Louka u Litvínova – Litvínov line at 3 kV DC. Electrification of the 29 km Olomouc–Uničov line is also underway.
In mid-August SŽDC awarded EŽ Praha and AŽD Praha a KC2·1bn contract to convert the 43 km Nedakonice – Říkovice route from 3 kV DC to 25 kV 50 Hz in a pilot project. Work is scheduled to start in April 2020 for completion in August 2022.