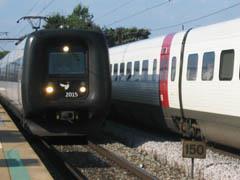 DENMARK: Banedanmark expects to begin tendering in July for up to 512 track-km of 25 kV 50 Hz electrification, CEO Jesper Hansen told the UNIFE General Assembly in København on June 14.
Four separate projects are under development as part of the government's strategy to prepare the network for a doubling of passenger traffic within 20 years. Hansen said the infrastructure manager was currently considering whether these should be tendered as a single package to benefit from potential economies of scale.
Top priority is the line from Lunderskov to Esbjerg, totalling 114 km, where electrification by 2015 was authorised earlier this year. Also due for completion in 2015 is the DKr750m Vamdrup - Vojens double-tracking project to raise speeds and increase capacity on the line to Germany through Jylland, requiring a further 20 track-km of wiring.
The biggest single scheme is the new 250 km/h line between København and Ringsted, for which the initial civil works packages are now being tendered. Involving 120 track-km of electrification, this DKr8·1bn project is due for completion in 2020.
Finally, the existing Ringsted - Nykøbing - Rødby line is to be doubled, electrified and upgraded for 160 km/h operation in conjunction with the Fehmarn Belt fixed link. Work on the 258 track-km of electrification is planned for 2018 following resignalling under the national ETCS programme. Hansen said a decision is expected in the autumn over whether to refurbish the 75-year old 3 km long Storstrøm bridge at a cost of DKr1·7bn, or replace it with a new double-track structure for DKr3·7bn.
Looking further ahead, Hansen envisaged that future electrification projects would initially focus on regional lines in Sjælland which are currently worked by diesel push-pull trainsets, such as the Roskilde - Kalundborg line where further double-tracking is planned by 2015 between Lejre and Vipperød to raise capacity.
Wiring of the main lines to northern Jylland would have to be justified in conjunction with replacement of DSB's existing diesel inter-city fleet, he suggested.
If the wires do reach Aarhus, they would remain 'entirely separate' from the regional lines being energised under the city's tram-train project, he insisted, adding that the light rail project was likely to be taken forward by the government through København metro company Metroselskabet rather than Banedanmark.