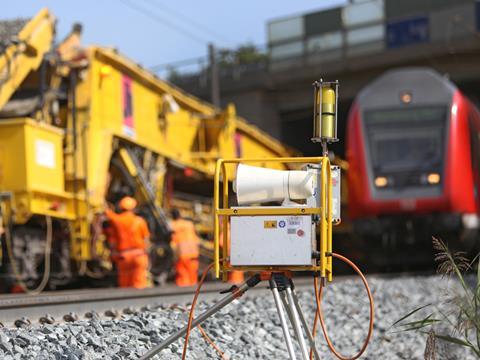 GERMANY: Deutsche Bahn announced a €28bn five-year spending plan for 2015-19 on December 8. Dr Volker Kefer, Managing Director responsible for the Infrastructure & Services division, said it formed the biggest modernisation programme in the history of the network.
The announcement follows federal government approval of the LuFV II agreement, which sets out state and DB funding for the network over the next five years. Under LuFV II the government has allocated an average of more than €3·3bn annually, and all state dividends from DB's infrastructure activities are to be reinvested in the network. 'Every cent we earn through infrastructure will be distributed to the federal government and from there flow back into the infrastructure', said Kefer.
The five-year programme includes €12bn for renewing 17 000 km of track, and €3bn for the renewal of 875 bridges. Around €4bn is allocated for signalling and control systems and €1bn for tunnel modernisation.
Spending in 2015 is put at €5·3bn, including the renewal of 3 800 km of track, 2 000 turnouts, 2·5 million sleepers, 4 million tonnes of ballast and 125 bridges. In an effort to minimise closures, the works will be grouped into 500 projects on and undertaken on 80 specific corridors.
Key renewals projects in 2015 will focus on the north–south S-Bahn tunnel in Berlin, sections of the Hannover – Göttingen, Köln – Aachen (22 km), Köln – Siegen (35 km) and Nürnberg – Ansbach (10 km) routes, the Mannheim – Stuttgart and Köln – Frankfurt (44 km) high speed lines, and upgrading the München – Ingolstadt route for 200 km/h operation.