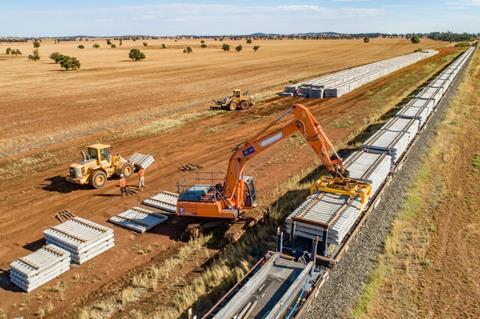 AUSTRALIA: Infrastructure manager Australian Rail Track Corp has established a dedicated subsidiary to take responsibility for the 1 700 km Inland Rail freight corridor linking Melbourne and Brisbane, following a highly critical review of the project.
Announcing the restructuring on July 7, federal Minister for Infrastructure, Transport, Regional Development & Local Government Catherine King explained that the move would separate the governance and delivery of Inland Rail from ARTC's day to day operations.
Responding to the findings of the review by former Sydney Water Chief Executive Dr Kerry Schott, published in April, the federal government issued an interim Statement of Expectations to ARTC on June 23. This replaces its earlier guidance dating from 2018 and reaffirms the government's 'objectives and expectations for ARTC and the future delivery of Inland Rail'.
Schott has been named as Acting Chair of ARTC, pending the return of Peter Duncan, who was appointed in February but is temporarily serving as Acting Secretary of the Department of the Premier & Cabinet in NSW. She will also stand in for him as a non-executive director on the board of the new subsidiary Inland Rail Pty Ltd. Meanwhile, Mark Campbell is to step down as Managing Director & CEO of ARTC at the end of July after three years in post.
The government said it was committed to ensuring that IRPL would have 'the necessary expertise and independent oversight' required to deliver on these objectives. The new subsidiary would have a dedicated six-member board of directors appointed by ARTC, with the initial members chosen 'for their skills, qualifications, knowledge and experience, including in the delivery of nationally significant freight infrastructure projects'.
IRPL will be chaired by Robert Rust, Director of Infrastructure SA and a Director of Reliance Rail. National Intermodal Corp Chair Erin Flaherty has been appointed Deputy Chair, and is expected to facilitate connections between the Inland Rail programme and the associated intermodal terminal developments.
The other three board members are Louise Thurgood, a non-executive Director of Sydney Metro; James Cain, currently Chair of the Community Safety Building Authority Advisory Board, and Vivienne King of CIMIC's Pacific Partnerships, a former CEO of light rail operator KDR Gold Coast and head of the WestGo consortium which bid to deliver the Western Sydney Airport metro project.
'We are making good on our commitment to act on the recommendations of the Independent Review of Inland Rail', said King. 'The establishment of Inland Rail Pty Ltd and the updated Statement of Expectations are examples of this government getting on with the job to refresh the approach to delivering Inland Rail ensure it is adequately funded and resourced.'
The government added that it was currently focused on completing the southern sections of the Inland Rail corridor between Beveridge in Victoria and Parkes in NSW by 2027. This would 'increase resilience and improve supply chain productivity between Melbourne, Perth, Sydney, Newcastle, the Illawarra and Adelaide'.