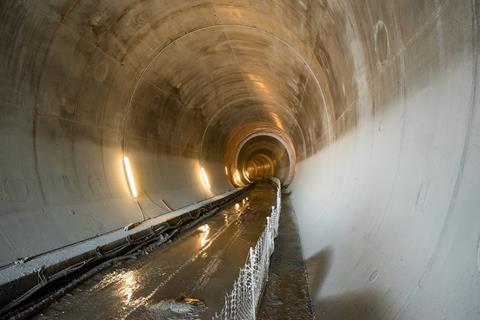 SLOVENIA: Project promoter 2TDK has signed a €203·8m contract with a consortium of SŽ-Železniško gradbeno podjetje, Kolektor IGIN, GH Holding and YM Construction for the supply of railway systems for the second track from Divača to the port of Koper.
2TDK announced the signing of its third and final principal contract, Lot 3, on September 4. It covers tracklaying and the supply and installation of on-track assets, electrification, tunnel equipment, commissioning of signalling and telecommunications, CCTV and security systems. Works are to be completed by the end of 2025. Test runs along the whole of the new alignment are scheduled to start in 2026.
Lot 1 covered civil works on the Divača – Črni Kal section including two tunnels, and Lot 2 civil works on the Črni Kal – Koper section including six tunnels and two viaducts.
The programme will see a second single-track route to the port completed, following a much less sinuous alignment than the existing line.