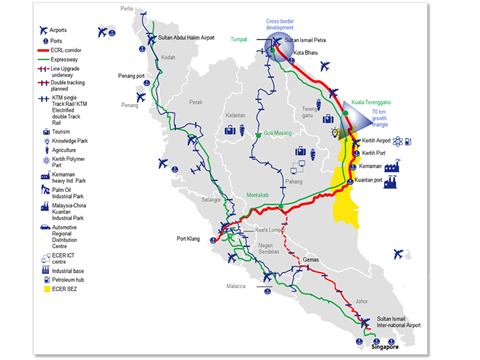 MALAYSIA: Main contractor China Communications Construction Co has appointed AECOM to provide site supervision services for the construction of stations, viaducts, tunnels and depots for the East Coast Rail Link project, and has awarded HSS Integrated a 83m ringgit contract to provide supervising consultancy services for Package 1 which covers the first 232 km of the route.
HSSI had previously provided preliminary design consultancy services for the first two phases of the route.
Scheduled for completion in 2024, the mixed-traffic ECRL would start at Port Klang on the west coast and run across Peninsular Malaysia to Kuantan, where it would turn north to parallel the east coast. The project involves the construction of a 530 km main line and 66 km of branches. The ECRL is to be built to 1 435 mm gauge using Chinese standards rather than the metre gauge of the existing Malaysian national rail network, and would be electrified.
The project aims to connect state capitals, urban centres and industrial zones, stimulating growth to reduce the economic gap between the east and west coasts. It is being promoted by Malaysia Rail Link Sdn Bhd, which is owned by the Ministry of Finance. A groundbreaking ceremony was held in August 2017.
'AECOM is proud to be involved with this project, which is a tremendous game-changer for the economy of the East Coast of Peninsular Malaysia', said AECOM Malaysia's Vice-President, Transportation, Ailee Loh when the contract was announced on January 8.'
'Such massive rail infrastructure will open up new opportunities for the people in the East Coast states by facilitating the creation of new jobs, stimulating industries and enhancing mobility, in tandem with the growth that is being driven by the East Coast Economic Region initiative', added AECOM's Country Director Patrick Wong.