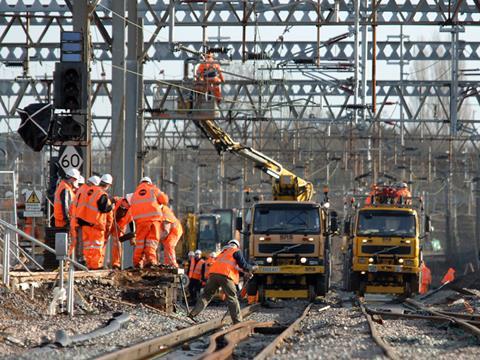 UK: The public version of the final business case for the Edinburgh - Glasgow Improvement Programme was published by Transport Scotland on January 27, when infrastructure manager Network Rail announced that Costain and Morgan Sindall had been awarded five-month alliancing contracts worth £5m to define the detailed scope, programme and target prices for EGIP.
In July 2012 Transport Scotland had announced a phased approach to EGIP, based a review undertaken by Jacobs to reduce costs from initial proposals. The £650m first phase has subsequently been amended to include more extensive redevelopment of Glasgow Queen Street station including track remodelling, costing £120m. This takes the overall cost of the first phase to around £742m, including £126m of optimism bias and contingency.
Costain and Morgan Sindall are to undertake detailed planning for the largest element of EGIP, covering 25 kV 50 Hz electrification of 156 track-km on the Glasgow Queen Street - Edinburgh Waverley route via Falkirk High as well as clearance works at Winchburgh Tunnel, infrastructure works at Glasgow Queen Street and Edinburgh Waverley stations and platform extensions at Croy, Falkirk High, Polmont and Linlithgow.
Network Rail expects to award the main civil engineering and electrification contract worth around £250m this summer, with completion planned for 2016.
Off-peak journey times between Edinburgh and Glasgow would be around 42 min following completion of the first phase, with capacity for four trains/h. A second phase of EGIP from 2025 could increase capacity to six trains/h, reduce journey times to 37 min and provide a connection to the future Edinburgh Gateway station.