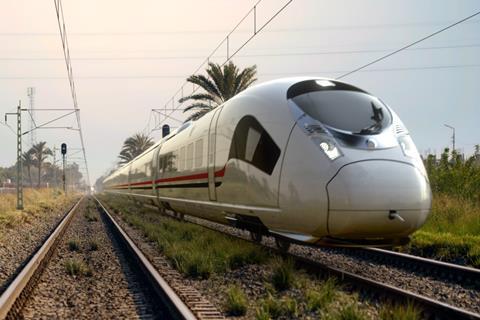 EGYPT: A turnkey contract covering design, construction, commissioning and 15 years of maintenance of the second and third lines of a planned 2 000 km electric rail network has been signed by the Ministry of Transport's project promoter the National Authority for Tunnels and a consortium of Siemens Mobility, Orascom Construction and The Arab Contractors.
The three-route 'state-of-the-art' fully electrified network designed for 230 km/h operation will connect 60 cities and serve 90% of the population. Future ridership is predicted at 500 million journeys/year, with modal shift from car and bus predicted to cut carbon emissions by 70%.
'We will develop from scratch a complete and state-of-the-art rail network that will offer a blueprint for the region on how to install an integrated, sustainable and modern transportation system', said Siemens Mobility CEO Michael Peter when the contract was signed on May 28.
Three routes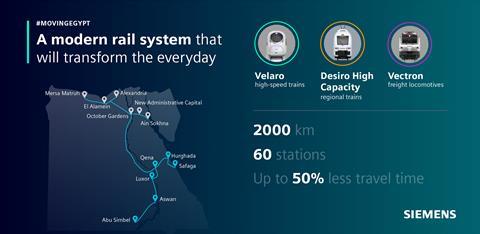 The first of the three routes will be the 660 km 'Suez Canal on rails' connecting the port of Ain Sokhna on the Red Sea with Alexandria, El Alamein and Marsa Matrouh on the Mediterranean via the New Administrative Capital and 6th October City. A US$4·5bn turnkey contract for this phase one line was signed by the same contractors on September 1 2021.
The phase two contract covers two more lines. One will run 1 100 km from the greater Cairo area to Abu Simbel near the border with Sudan, supporting development along the River Nile.
The third line will run 225 km to connect Luxor with Hurghada and Safaga on the Red Sea, serving World Heritage archaeological sites and improving the efficiency and sustainability of freight transport between the Red Sea and inland locations.
Contracts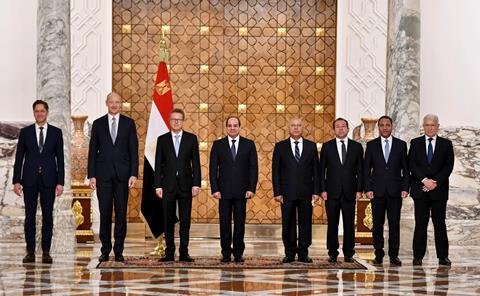 Siemens Mobility's share of the overall three-line contract package is worth €8·1bn, including €2·7bn for the first line.
Siemens Mobility will supply 41 eight-car 230 km/h Velaro trainsets, 94 four-car Desiro HC regional electric multiple-units and 41 Vectron electric freight locomotives, as well as power supplies, ETCS Level 2 and its Railigent asset management tool.
A joint venture of The Arab Contractors and Orascom Construction will supply and install the trackworks, signalling, overhead electrification, telecoms and traction power substations, and maintain the track works and telecoms.
Orascom Construction's share of the first phase is worth US$0·6bn and of second phase US$1·2bn. 'This transformational project is set to elevate Egypt's entire infrastructure, industrial and tourism sectors', said CEO Osama Bishai, adding that Orascom Construction's involvement 'reaffirms our position as a leading partner of choice not only on transportation projects but also on mega projects as a whole.'
The consortium expects construction of the lines to directly create up to 40 000 jobs in Egypt, plus 6 700 jobs at local suppliers and indirectly throughout the wider Egyptian economy.
New era for railways in Egypt, Africa and the Middle East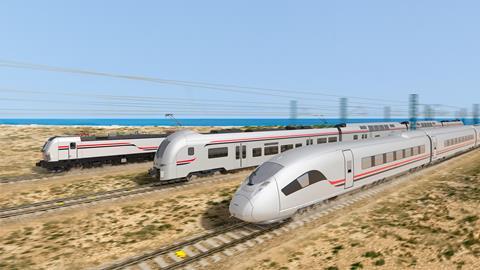 The latest contract was signed by Minister of Transport Lieutenant General Kamel Al Wazir, President & CEO of Siemens AG Dr Roland Busch, CEO of Orascom Construction Osama Bishai and President & CEO of Arab Contractors Sayed Farouk.
The signing was witnessed by Egypt's President Abdel Fattah Al Sisi and Prime Minister Mostafa Madbouly.
President Al Sisi said the project 'comes as a consolidation of the fruitful co-operation between Egypt and Germany in the field of infrastructure and will represent a valuable great addition to Egypt's transportation system, marking the beginning of a new era for the railway system in Egypt, Africa and the Middle East'.
Germany's Chancellor Olaf Scholz sent a video message saying the 'Egyptian government is taking a bold and far sighted decision' for the Egyptian people and for Egypt as a business location, and he hoped that other African countries would follow its example. Siemens said the Chancellor's message underlined the project's importance for German-Egyptian bilateral relations and global climate protection.
Busch said the contract was the biggest order in the history of Siemens. 'The opportunity to provide Egypt with a modern, safe, and affordable transportation system that will transform the everyday for millions of Egyptians, create thousands of local jobs and reduce CO2 emissions in transport, is an honour for us', he said. 'Not only will it promote economic growth, it will also enable Egypt to take a leap forward in rail transportation.'