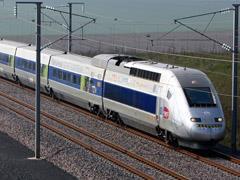 FRANCE: Following an extraordinary board meeting on January 18, infrastructure manager RFF announced that it had selected Eiffage as preferred bidder to build LGV Bretagne – Pays de la Loire under a PPP deal valued at €3·4bn.
The project covers construction of 214 km of new line, of which 182 km will be for high speed running. The line will run from an end-on junction with LGV Atlantique at Connerré, 20 km east of Le Mans to Rennes. A connecting link to the existing network at Sablé-sur-Sarthe will provide a bypass around Le Mans for trains to and from Nantes. Journey times will be cut by 37 min between Paris and Rennes, and by 8 min for Paris – Nantes services.
According to RFF, the project will generate more than 10 000 jobs during the construction phase, which is due to be completed by the autumn of 2016. The project is being financed by a mix of public and private sector funding, including contributions from RFF, the French government and regional authorities. Eiffage will maintain the new line for 25 years, but operational responsibility will remain with RFF.
Following the issuing of a Declaration of Public Utility in October 2007, RFF invited bids for the PPP concession. Last year Bouygues TP, Eiffage and Vinci Concessions were shortlisted to submit best and final offers by October 13. RFF hopes to sign the contract in the first quarter of 2011. It said Eiffage had been selected on the basis of five criteria: cost, robustness of the financing package, technical quality and environmental impact, the construction timetable and the opportunities for small and medium-sized companies.
RFF President Hubert du Mesnil said the Eiffage bid was 'very attractive', helping to keep the project within budget. 'This great railway project will create one of the longest high speed lines in Europe, running for 360 km between Paris and the west of France' he said, adding that 'it will be a benefit for the economic development and the attractiveness of the areas it serves.'