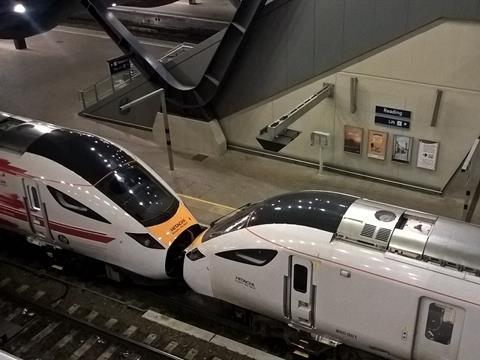 UK: The first testing of an electric trainset between Reading and Didcot as part of the Great Western electrification programme was undertaken on the mornings of July 16 and 17, in what infrastructure manager Network Rail said was 'a major milestone for the electrification project'.
Having arrived from its London depot, the Hitachi Class 800 Intercity Express Train made two test runs from Reading to Didcot at up to 200 km/h to test the newly installed 25 kV 50 Hz overhead electrification equipment. The testing was managed by Network Rail, which is currently electrifying the routes between London Paddington and Bristol, Cardiff, Oxford and Newbury. The Reading – Didcot section has been completed first to serve as a testing ground for the power systems and the trainsets.
'This is a great step forward, and I'd like to pay tribute to the team who have worked very hard to make this happen', said Mark Langman, Route Managing Director for Network Rail Western. 'This is the future of rail being built before our eyes and it's a very exciting time to be involved in this project. This weekend we've come a big step closer to providing faster, quieter, and more efficient services to the people of the region who depend on railways.'
Electric passenger services are now scheduled to begin 'from 2019'.