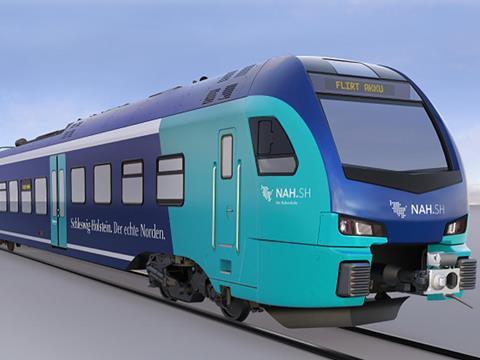 GERMANY: Deutsche Bahn is to install discontinuous 15 kV 16·& Hz electrification 'islands' on regional routes in Schleswig-Holstein by December 2023, enabling battery-electric multiple-units to replace diesel traction.
In 2019 Land transport authority NAH.SH awarded Stadler a contract to supply 55 Flirt Akku battery-electric multiple-units. These will have a range of up 150 km using battery power under optimal conditions, while the longest gap without electrification in Schleswig-Holstein will be around 80 km.
Electrification work is scheduled to start in autumn 2022, initially with the wiring of tracks at Kiel, Bad Oldesloe, Flensburg and Büchen to enable the use of the battery-powered trains as soon as possible.
The second stage in 2023 will see the overhead electrification extended 5 km from Flensburg station in the direction of Kiel and on the 3·5 km line between Kiel Hbf and Kiel-Hassee.
The total investment is expected to exceed €40m. It estimated that this will save almost 10 million litres of diesel a year in the Land.
'DB is going to say, step by step, goodbye to diesel', said Ronald Pofalla, DB management board member for Infrastructure. 'Overhead contact islands open new possibilities for more climate-friendly battery operated local traffic throughout Germany.'
Similar electrification islands are planned for Rheinland-Pfalz and the Rhein-Ruhr area.