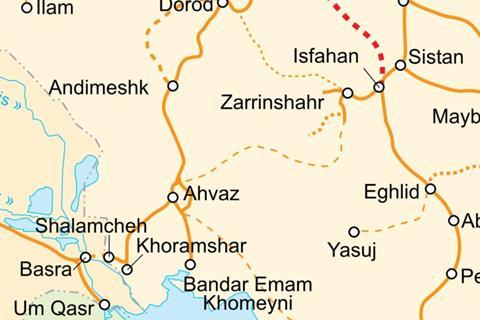 IRAN: The Ministry of Roads & Urban Development has signed a memorandum of understanding with Mapna Group for construction of the long-planned rail link between Esfahan and Ahvaz, capital of Khuzestan province
Running through the Zagros mountains southwest from Esfahan, the 510 km electrified line would significantly shorten the rail distance for the movement of iron ore from central Iran to steel plants in Khuzestan, as well as relieving the congested road between the two provincial capitals.
Under the terms of the MoU signed by Minister of Roads & Urban Development Mohammad Eslami, CEO for Construction & Development at the Transport Infrastructure Co Kheirollah Khademi and Mapna President Abbas Aliabadi, the engineering conglomerate will be responsible for developing the project under an engineering-procurement-construction package.
Mapna will also be responsible for raising the necessary finance. Previously estimated at €2·1bn, the line is now expected to cost around €3bn to complete.