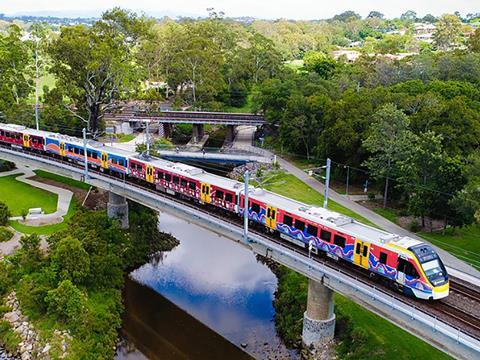 AUSTRALIA: Work has started on an A$43m project to install ETCS Level 1 automatic train protection on Queensland Rail's Sunshine Coast line between Caboolture, Nambour and Gympie North.
Covering around 120 track-km of the electrified main line running north from Brisbane, the work includes the installation of 43 new equipment cubicles and the upgrading of a further 130.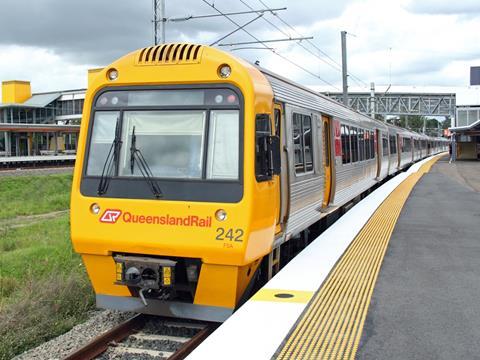 The resignalling is being undertaken alongside the A$550m Sunshine Coast Rail Duplication project, which will see the double-tracking of the 20 km Beerburrum – Landsborough section to accommodate more frequent outer-suburban services to Nambour. That work is due to be completed over the next 12 months.
'Integrating ETCS and ATP systems along the line is an important step in preparing for track duplication', explained Minister for Transport & Main Roads Mark Bailey. 'It also means we'll be able to put the newer NGR class trains into services up to Gympie.'
QR's Brisbane EMU fleet is being fitted with ETCS as part of a package of enhancements to the suburban network ahead of the planned opening of the Cross River Rail link in 2025. ETCS Level 2 is being installed on new line, and is due to be rolled out across the city's inner suburban routes in phases; work is already underway on the Shorncliffe line.
Lead contractor for the Sunshine Coast resignalling is Rail Control Systems Australia, which has established a base at Cooroy, between Nambour and Gympie. As well as using local subcontractors to undertake civil works and provide support services, the company is expected to deploy more than 60 people on the project. RCSA Construction Delivery Manager Darren McNamara said the contract had given the company 'the confidence to employ an additional apprentice' and 'invest in more young talent. Our electrical apprentices receive on-the-job experience in railway signalling control systems – skills that are in high demand in the industry.'