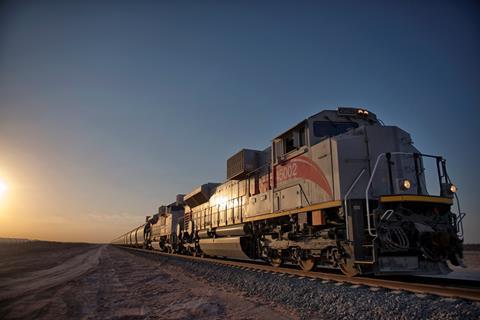 UAE: National railway promoter Etihad Rail has confirmed the award of an 846m dirham contract for construction of its central Operations & Maintenance facility at Al Fayah in the suburbs of Abu Dhabi.
To be built by a joint venture led by Vinci Construction France, the O&M facility will include locomotive and rolling stock maintenance workshops, warehousing, the operations control centre and an administrative building from which the expanded network will be managed. The initial Stage One network has been operated since opening from a smaller depot at Al Mirfa near Ruwais.
The contract award was formally approved by the Etihad Rail board during a virtual meeting on April 2. This occasion also marked the formal start of construction on the Stage Two Package B civil works contract, when Chairman Sheikh Theyab bin Mohamed bin Zayed Al Nahyan remotely inaugurated a concrete sleeper factory at Saih Sheib.
Package B covers a total of 216 route-km, running northeast from a junction with Stage One at Liwa near Tarif to the edge of Dubai, including branches to serve the Khalifa Industrial Zone Abu Dhabi (KIZAD), Khalifa Port and Industrial City of Abu Dhabi.
During the meeting, the board reviewed the mechanisms put in place to ensure operational continuity on the 264 km Stage One line, which transports granulated sulphur from Shah and Habshan to the port of Ruwais.
The board also approved the company's results for 2019 and the 2020 strategic plan. Sheikh Theyab stressed the importance of continuing to implement the 'strategic plans, future visions, and operational work' on the national railway project, despite the current coronavirus pandemic, highlighting the importance of putting in place 'precautionary and preventive measures to ensure business continuity'.