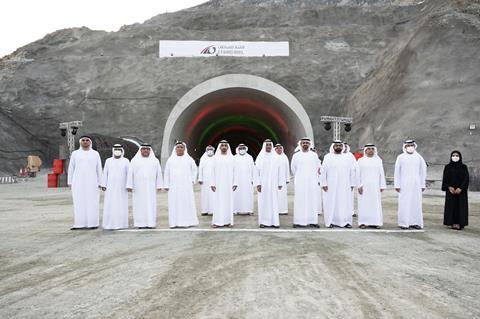 UAE: All of the tunnels required for Stage 2 of the national rail network have now been holed through, project promoter Etihad Rail announced on November 21.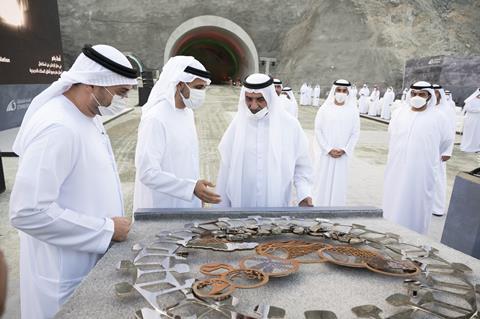 The nine tunnels totalling 6·9 km are all located in the northern emirates of Fujairah and Ras Al Khaimah, and form part of Package D. The rock tunnels have been excavated using conventional blasting techniques, but Etihad Rail implemented various precautionary measures to limit noise and vibration, deploying 'innovative machinery and equipment' to minimise any impact on nearby communities.
Involving more than 600 tunnelling specialists and project supervisors, the excavation of the nine tunnels totalled 1 million working hours, according to the promoter. Work was completed two months ahead of schedule.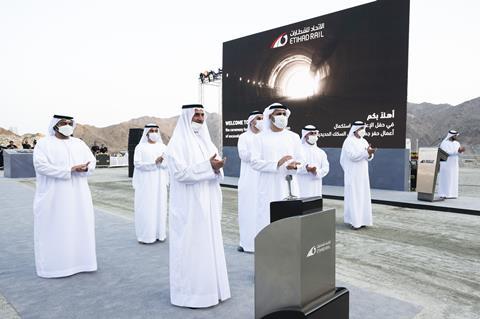 Accompanied by Crown Prince Mohammed bin Hamad Al Sharqi, the Ruler of Fujairah Sheikh Hamad bin Mohammed Al Sharqi visited the worksite at Sakamkam to mark the completion of tunnelling. He lauded the efforts of Etihad Rail to carry out the work without impacting nearby communities, while 'upholding the highest measures of safety, security, sustainability, and environmental protection'.
Thanking the governments of Fujairah and Ras Al Khaimah for their 'unlimited support' for one of the biggest project infrastructure projects in the UAE, Etihad Rail Chairman Sheikh Theyab bin Mohamed bin Zayed Al Nahyan said the emerging rail network would play a vital role in sustaining the position of the UAE as a global and regional transport, shipping and logistics hub. As a key element of the global supply chain, it would support the development of the emirates' transport and logistics system, and 'enhance the UAE's journey for the next 50 years', he believed.