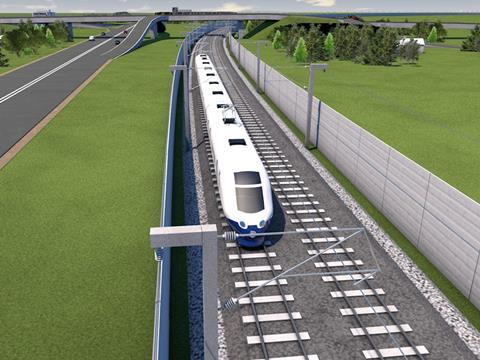 LITHUANIA: An agreement to provide €180m of European Union funding to cover 85% of the costs of the Lithuanian section of the 728 km Rail Baltica II project was signed on November 18 by the European Commission's Innovation & Networks Executive Agency, the relevant government ministries from Lithuania, Latvia and Estonia and the tri-national RB Rail joint venture which is managing the project.
'This agreement is the result of continuous work which was achieved thanks to the joint efforts of all partners', said Lithuania's Acting Minister of Transport & Communications Rimantas Sinkevicius. 'The signing emphasises the project's maturity and is another step towards the final goal; constructing a European standard gauge railway line in the Baltic States by 2025.'
The EU funding allocated under this agreement is to be used to extend the existing 1 435 mm gauge railway 55 km from Kaunas to the border with Latvia. A feasibility study will also be undertaken for the installation of ERTMS on the Poland – Kaunas line competed last year.
This is a third funding agreement for Rail Baltica. Nearly €710m has been allocated from the Connecting Europe Facility, including €310m for Lithuania.
The three countries intend to apply for further funding by February 2017 under a third CEF call for proposals