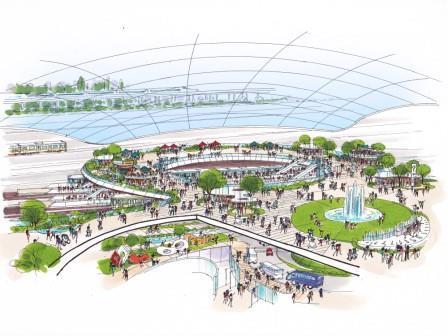 JAPAN: East Japan Railway has announced plans to build a 50th station on its busy Yamonote Line circular suburban railway in southern Tokyo.
As yet un-named, the station is intended to spur urban development on a 13 ha site currently occupied by stabling sidings for the 1 067 mm gauge Tokaido Line. JR East is in consultation with the government and Tokyo Metropolitan Government about redeveloping this land.
Expected to open in 2020 to coincide with the city's hosting of the Summer Olympic and Paralympic Games, the new station will split the current 2·2 km section between Tamachi and Shinagawa stations. It will be located in the Konan district of Minato-ku, 1 300 m south of Tamachi and 900 m north of Shinagawa, which provides an important interchange between the Yamanote Line and the monorail to Haneda International Airport.
According to JR East, the Yamanote, Keihin-Tohoku and Tokaido lines would be realigned to the east, closer to the Tokaido Shinkansen stabling sidings, to free up land on the western side of the site where it can be accessed from the Daiichi-Keihin road. The double-deck suburban station would have two island platforms and four tracks, serving both the Yamanote Line and the north-south Keihin-Tohoku cross-city line. The main entrance will be located in a public square above the tracks.
The development zone would also be served by Sengakuji station on Tokyo Metropolitan Bureau of Transportation's 1 435 mm gauge Asakusa metro line, which runs under the main road. This line is shared by through trains from the Keikyu Main Line and Keikyu's Haneda airport service.