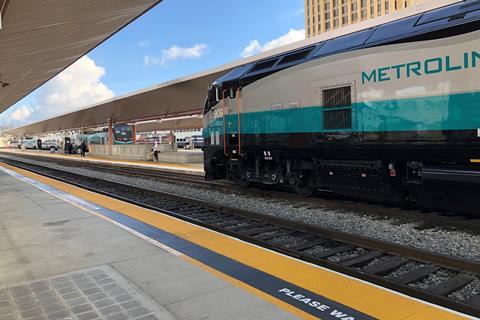 USA: Los Angeles commuter operator Metrolink has been awarded $10·7m from the federal Department of Transportation's Consolidated Rail Infrastructure & Safety Improvements grant programme to support safety and speed improvement projects in the busy Burbank – Anaheim rail corridor.
The CRISI grant will be matched by state funding to support track and signalling improvements on the line between Burbank Airport-South and Glendale stations, which are intended to alleviate congestion and increase on-time performance
The route is used by almost 100 passenger and freight trains each weekday, with Metrolink's Ventura County and Antelope Valley services sharing the tracks with Amtrak's Pacific Surfliner and Coast Starlight inter-city trains as well as Union Pacific freight trains.
Metrolink carried a record 12 million passengers last year, following five years of ridership growth. Its 10-year strategic plan envisages a doubling of commuter rail frequencies in the Burbank corridor, where trains currently operate at 15 min headways at peak times. Around $9m is required for reconfiguring the junction at Burbank, with a similar sum required to lengthen the platforms at Downtown Burbank and Glendale stations to accommodate eight-car push-pull trains. Remodelling of the Glendale buildings is priced at $20m, while level crossing improvements are also envisaged to reduce delays.
Thanking Transportation Secretary Elaine Chao and Federal Railroad Administrator Ronald Batory for their support, Metrolink Chair Brian Humphrey said the CRISI grant would support 'much-needed safety and operational improvements in a heavily travelled rail corridor'. Local congressman Adam Schiff said the Burbank Corridor Safety & Speed Improvements Project would 'improve station safety for pedestrians, reduce travel time and improve speed in this crucial inter-city and regional rail corridor'.
Humphrey added that Metrolink was already working on the Southern California Optimised Rail Expansion programme to facilitate more frequent services in time for Los Angeles to host the 2028 Olympic and Paralympic Games. 'With roads in Southern California at capacity and the population continuing to grow, more people are looking for an environmentally-friendly alternative to driving', he explained. According to the Los Angeles Economic Development Corp, SCORE would add more than $1·17tr to Southern California's economy, while reducing greenhouse gas emissions by an estimated 51·7 million tonnes.