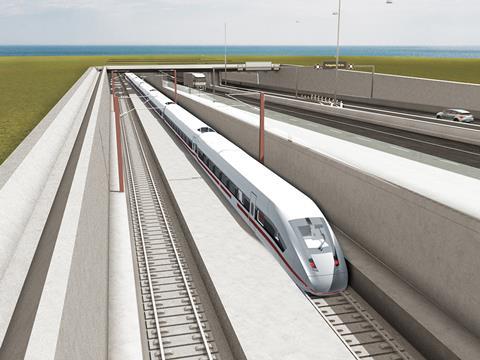 EUROPE: Denmark to Germany tunnel project promoter Femern A/S signed two technical consultancy contracts on March 21. 'This marks a very important day for the project', said Technical Director Henrik Christensen. 'It's now a question of when, not whether, construction gets underway. Everything is ready on the Danish side and we are doing all that we can to win German approval as soon as possible.'
A framework agreement for client technical consultancy services was awarded to a Rambøll-Arup-TEC joint venture, with Schønherr and WTM Engineers as sub-consultants. A framework agreement for the provision of in-house technical consultancy services was signed with ÅF-Hansen & Henneberg, with Atkins Danmark, Obermeyer Planen + Beraten and ÅF Infrastructure as sub-consultants.
The planned 18 km road and rail tunnel between Rødbyhavn in Denmark and Puttgarden in Germany would be the world's longest immersed tunnel. The German planning authorities are expected to present an updated timescale for approving the project in the coming weeks, and the fixed link is expected to open in 2028.
'We received strong and high-calibre offers from the consultancy firms that took part in the two tenders', said Christensen. 'The appointment of the two consortia underlines our confidence in the robustness of our technical platform to support our work on the current German approval process prior to the start of construction.
'When it comes to building the world's longest immersed tunnel, quality should be best in class, and we have no doubt that this is what our consultants will deliver. Their role will be to advise and challenge so that we achieve the best possible solutions'.