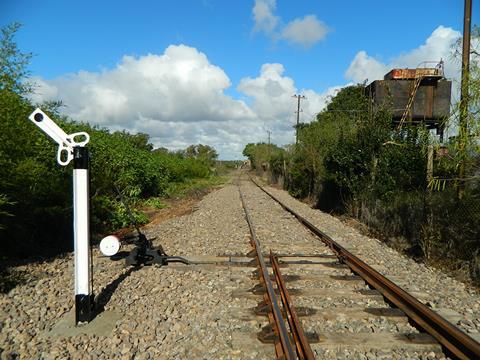 URUGUAY: A consortium of CAF Signalling and Revenga Smart Solutions has been awarded a €50m contract to design, supply, install, test and commission the signalling and telecoms for the Ferrocarril Central project to modernise the 273 km route between the Port of Montevideo and Paso de los Toros.
CAF's share of the contract announced on November 6 is worth €30m. This includes the supply of a centralised traffic control system, electronic interlockings and ETCS Level 1.
The two-year route modernisation project is being undertaken through an 18-year design, finance, build and maintain PPP contract signed early this year by the Ministry of Transport & Public Works and the Vía Central consortium of local companies Saceem and Berkes, Sacyr of Spain and NGE from France.
The overall value of the project is US$880m, with a further US$90m to be spent on related projects. This will be partly financed with a US$500m loan from the Inter-American Development Bank.
The line is scheduled to reopen in March 2022. Freight trains will operate over the full corridor, with passenger services operating between Montevideo, Progresona and 25 de Agosto, 64 km from the capital.
The Ferrocarril Central project was described in detail in the November 2018 issue of Railway Gazette International magazine, which subscribers can access in the digital archive.