ANGOLA: A ceremony at Lobito's main station on October 3 marked the final handover of the Benguela Railway to the government from construction company China Railway 20 Bureau Group.
The Chinese contractor had been working on rehabilitation of the 1 344 km line from Luau on the border with the Democratic Republic of Congo to Lobito since January 2006.
The 1 067 mm gauge line was largely complete by 2014, but through traffic from DR Congo had to await reconstruction of the connecting 422 km Dilolo – Kolwezi line, which was finished in 2016.
An initial shipment of manganese ore from mines at Kisange in the DRC was carried over the Benguela Railway in March 2018, followed by a 1 200 tonne shipment of copper in September that year. In July this year a Rovos Rail cruise train arrived at Lobito from Dar es Salaam in Tanzania after a two-week journey.
In the last five years the Chinese contractor has been finishing off work on station buildings and platforms, bridges, culverts and telecommunications, as well as carrying out staff training and familiarisation.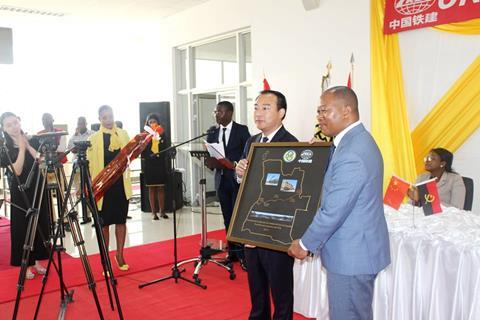 Attending the event on October 3 were Benguela Deputy Governor Leopoldo Muhongo, Board Chairman of Caminho de Ferro de Benguela Luís Lopex Teixeira and Director General of CR20 Han Shu Chen, together with Director of the National Institute of Railways of Angola Ottoniel Manuel.
Muhongo told the Jornal de Angola that the railway 'renews people's hope and relieves the suffering of hundreds of thousands of families living in the regions where it passes'.
Han Shu Chen said that the railway was now 'ready' to handle flows of passenger and freight traffic and that CR20 would keep permanent teams of staff on site to carry out maintenance work. Traffic is ultimately expected to reach 20 million tonnes of freight and 4 million passengers a year.