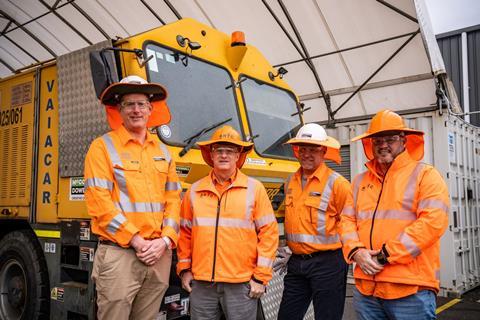 AUSTRALIA: Australian Rail Track Corp announced on October 31 that it had awarded a contract worth approximately A$200m for McConnell Dowell to start civil works on the first Inland Rail sites in Victoria.
The project to create a double-stack dedicated freight corridor between Melbourne and Brisbane requires the construction of 600 km of new alignment and the upgrading of 1 100 km of existing line. The latest contract covers modifications to the existing 1 435 mm gauge route between Melbourne and Albury.
The first tranche of Inland Rail works covers modifications to existing road and rail infrastructure, including:
• the Seymour-Avenel Road bridge in Seymour;
• the Murray Valley Highway in Barnawartha North;
• Wangaratta station; and
• the Beaconsfield Parade precinct in Glenrowan.
McConnell Dowell will also deliver corridor-wide works as part of the contract, including signalling, track realignment and overhead utilities works.
'We're pleased to have McConnell Dowell on board to begin construction on Inland Rail in Victoria, which is a crucial step for Australia's largest infrastructure project', said Ed Walker, ARTC Victoria & South Australia Projects General Manager.
'McConnell Dowell has already carried out initial design and preparatory works at four sites on the existing North East Rail Line to enable Inland Rail double-stacked freight trains to run between Beveridge and Albury. Now they have been confirmed as the construction contractor for sites in the first tranche, they will get on with the job of building the designs they have been developing.'