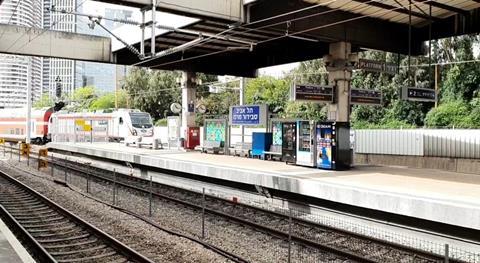 ISRAEL: Israel Railways operated its first electric test train to Tel Aviv's Hashalom and Savidor stations on April 5, following energisation of the 25 kV 50 Hz overhead line equipment on the core cross-city Ayalon Corridor.
Electrification of this section had been due for completion in June, but principal contractor Sociedad Española de Montajes Industriales was able to accelerate the work following ISR's decision to suspend all passenger services during the Covid-19 pandemic. This freed up access to the infrastructure and cut the commissioning time by around 2 months.
The trial run was organised to carry out a preliminary examination of the OLE and identify any remaining issues to be rectified. Further tests and commissioning runs are to be undertaken in the coming weeks, in preparation for a resumption of commercial operation, and ISR anticipates that some of these may carry invited passengers.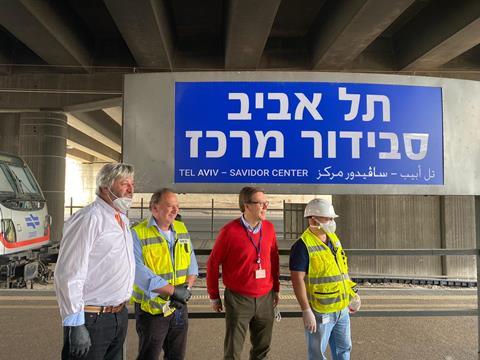 Participating in the test run with Electrification Manager Avi Zalman and SEMI representatives, ISR General Manager Michael Maiksner said 'completion of the electrification between Jerusalem Navon and Tel Aviv Savidor is a significant step for our passengers, who will benefit from higher connectivity all over the greater Tel Aviv area. Unfortunately, this achievement comes at a hard time during the corona epidemic and consequently no passenger services, but we are working hard towards better days.'
Adding that it marked 'an important achievement for the national railway electrification project', Maiksner said the successful test run had demonstrated the need to accelerate the work, in line with the recent agreement between ISR, SEMI and the transport and finance ministries.