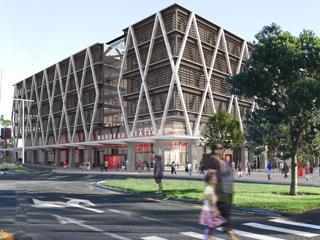 NEW ZEALAND: Passenger services on Auckland's first new rail route for 82 years began on April 15, following a preview day with station tours, train rides, face painting, music and celebrity sausage sizzle on April 14.
An inaugural train carrying the Mayor of Auckland had broken a ribbon at Manukau station on April 4.
The 2 km branch from the Southern Line at Puhinui runs alongside State Highway 20 to Davies Avenue in central Manukau, where the station has been built 6 m below ground level in a 300 m long trench. This to be covered by the NZ$95m Manukau Tertiary Centre education campus and bus interchange which is now under construction.
Construction of the double-track line was managed by KiwiRail, with Leighton Works as main contractor and NZ Transport Agency providing significant funding.
Veolia Transport provides an hourly train service, increasing to three trains/h in the peaks. Traffic is predicted to reach 600 000 passengers/year after the campus is completed in 2013, making it the second business station in Auckland after Britomart.