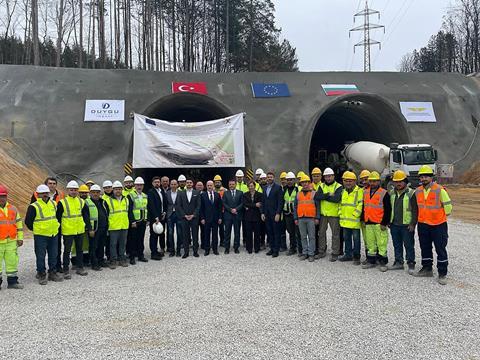 BULGARIA: Construction of a 1 km twin-bore tunnel has been completed as part of the upgrading of the 20 km Elin Pelin – Vakarel section of the Sofia – Plovdiv line.
This section is the most complex part of a 498·8m lev EU-backed project to modernise the 51 km Elin Pelin – Kostenets route.
The work is being carried out by the Cen-Duy Demiryolu Elin Pelin joint venture of Turkish companies Cengiz Holding and Duygu Muhendislik İnşaat.
'Railway tunnel construction was neglected for a long time. This is the first railway tunnel completed in the country in the last 50 years,' said Minister of Transport & Communications Hristo Alexiev on March 10. 'More than 200 people with more than 100 machines worked for a year and a half to bore the first tunnel on the line.'
The project will increase running speeds to 160 km/h for passenger trains and 120 km/h for freight, reduce maintenance costs and improve safety, in particular through the elimination of level crossings
The work includes construction of what will be the country's longest railway tunnel at 6·8 km, as well as two twin-bore tunnels with a total length of 1·5 km, a road overpass and an underpass, eight other bridges and overpasses, signalling and telecoms renewals and rebuilding of Elin Pelin and Pobit Kamak stations.
Commissioning is planned for 2027.