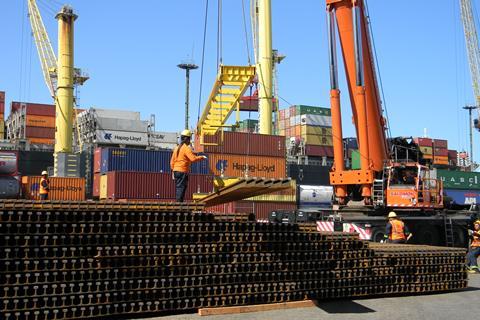 URUGUAY: The Ministry of Transport & Public Works has appointed Italy's FS Group to provide it with technical advice during the Ferrocarril Central project to modernise the 273 km route between the port of Montevideo and Paso de los Toros.
The upgrading project is being undertaken by the Vía Central consortium of local companies Saceem and Berkes, Sacyr of Spain and NGE from France under an 18-year design, finance, build and maintain PPP contract awarded last year.
In February, the ministry as client for the project awarded FS Group a €0·6m six-month to provide technical support and auditing services. The Italian state railway group now has a team of three staff working locally, and three people working on the scheme at its Roma office headquarters.
Meanwhile, the first load of 18 m long 54 kg/m rail for Ferrocarril Central was delivered to Montevideo from Poland on February 24. Saceem has begun construction of a road bridge near Montevideo Central station which will grade separate a main road from the existing railway to the docks and a new rail connection which will be used by trains carrying pulp wood to the new terminal.