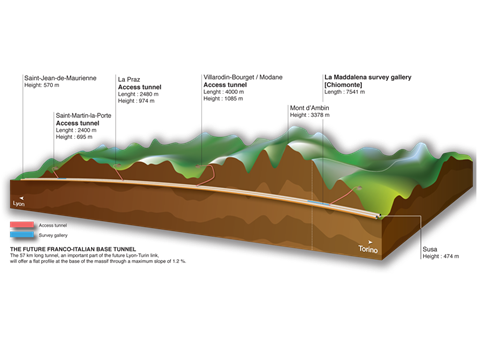 FRANCE: Construction of a 9 km trial bore for the Alpine base tunnel that will eventually form part of the new line between Lyon and Torino in Italy is expected to start in January 2015, following the signature of a funding agreement worth €105∙78m.
The agreement was signed in Paris on October 1 by the transport ministry, transport infrastructure funding agency AFITF, project promoter Lyon Turin Ferroviaire and infrastructure manager RFF.
LTF President Hubert du Mesnil said that the funding agreement would enable tenders to be called for tunnelling at Saint-Martin-La-Porte with aim of staring work early next year. 'We are rigorously following the project programme and timetable decided by France and Italy during the intergovernmental summit in November 2013', he added.
The test bore is to be dug towards Italy on the same alignment as one of the planned twin bores of the 57 km base tunnel, and will be built to the same diameter. Access shafts totalling 9 km in length have already been completed in France.