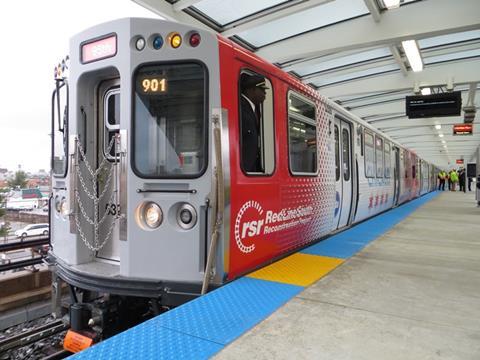 USA: The Chicago Transit Authority board has approved an amendment to its 2016-20 Capital Improvement Plan which adds $75m for preliminary engineering and a final environmental impact statement for the proposed Red Line Extension. This work is required before CTA can apply for more than $1bn in federal funding which it is seeking to support the $2·3bn project.
The amendment would be funded by CTA bonds, and CTA plans to undertake procurement for further environmental planning and engineering work during 2017.
The project would extend the Red Line metro route by 8·5 km from 95th Street to 130th Street, adding four stations near 103rd Street, 111th Street, Michigan Avenue and 130th Street.
'The Red Line Extension project is a transformational project to expand transit to Chicago's southern border and create faster access to jobs, education and opportunity', said CTA President Dorval R Carter Jr on November 27. 'This investment will allow CTA to move forward with preliminary engineering and planning work necessary to seek federal funding to make this vision a reality for Chicago's Far South Side.'
CTA has completed the $43m renovation of five stations on the O'Hare branch of the Blue Line as part of the second phase of the $492m Your New Blue modernisation project. 'Today is an important milestone in our efforts to modernise transit infrastructure in Chicago', said Mayor Rahm Emanuel on November 28. 'There are now new tracks, signals and power between the Loop and the northwest side, all of which will make the ride smooth, safe and speedy.'