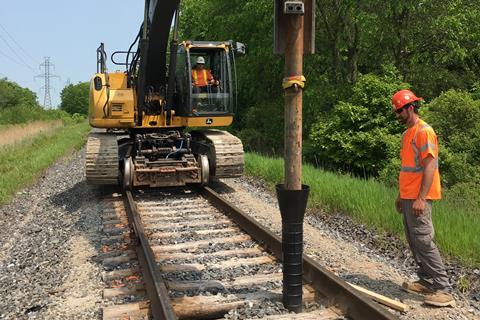 TRACK: Geopier Foundation Co has introduced its GeoSpike, which is designed to provide a low‐cost way to strengthen the subgrade without needing to remove the rails, sleepers or ballast.
Pairs of polymer shells are installed between the sleepers, and filled with aggregate which is then compacted. The GeoSpike then transfers dynamic loads from passing trains down to a stronger bearing layer.
Canadian National has used the system on a section of line in Sarnia, Ontario, where it had been experiencing problems with soft soil, track pumping and ballast contamination. Geopier said it was able to install 130 GeoSpike elements along 60 m of track in under two days, 'significantly' more cheaply than alternative options.
'Geopier's new system is unique to the ground improvement market and presents great opportunity and cost savings for railroad companies', said the supplier's President & Chief Engineer Dr Kord Wissmann.