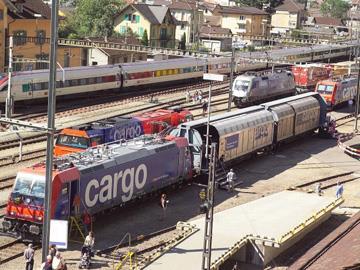 EUROPE: Swiss Federal Railways and Italian infrastructure manager RFI have agreed to strengthen their co-operation on the Gotthard corridor ahead of the opening of the Gotthard Base Tunnel in 2016.
Two agreements were signed by head of SBB Infrastruktur Philippe Gauderon and RFI Director Michele Mario Elia on August 3.
With demand increasing for both passenger and freight traffic, more trains are using the transalpine route linking Zürich and Luzern to Milano, and the two operators foresee major challenges from 2014.
SBB and RFI are to form joint working groups to address technical and operational issues, aiming to improve network utilisation and cut journey times. The Network Development team will oversee infrastructure projects such as extending platforms and providing clearance to carry 4 m high lorries. An Operations group will co-ordinate cross-border services to improve punctuality, and review timetabling to optimise capacity.
The second agreement lays out 'tailored action plans' to equip lines on both sides of the border with ETCS to boost interoperability.
The base tunnel is being equipped with ETCS Level 2, and SBB has already committed SFr300m to roll out Level 1 Limited Supervision on the existing route. A ceremony at Airolo on July 13 attended by representatives of the Swiss transport ministry, SBB Infrastruktur, Siemens and Thales marked the commissioning of the first Eurobalise being installed as part of the national rollout strategy, which is due to see the legacy ZUB and Signum equipment replaced by the end of 2017.