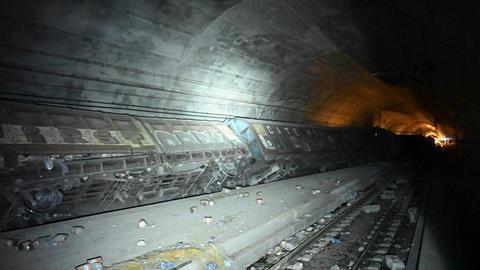 SWITZERLAND: The infrastructure damage caused by a freight train derailment in the western bore of the Gotthard Base Tunnel on August 10 is significantly greater than expected and repairs could take until early 2024, Swiss Federal Railways has reported.
Issuing an update on August 16, CEO Vincent Ducrot said that 8 km of track and 20 000 fastenings and related slab track components needed to be replaced following the incident involving a northbound train.
'The Gotthard Base Tunnel is one of the safest in the world', Ducrot said. 'The fact that such an accident could still happen hits us hard. There were no injuries, but there was a lot of damage.'
SBB is prioritising the reopening of the undamaged eastern bore, and it hopes that freight traffic can resume from August 23.
Passenger trains will continue to be diverted over the higher-altitude Gotthard Pass route, because emergency escape plans require both bores of the base tunnel to be available. Domestic journey times will be extended by 60 min and international journeys by up to 120 min; double-deck trains cannot use the mountain route.
Meanwhile, Italian infrastructure manager RFI has delayed engineering works on the Simplon line until August 23 to provide an alternative route.