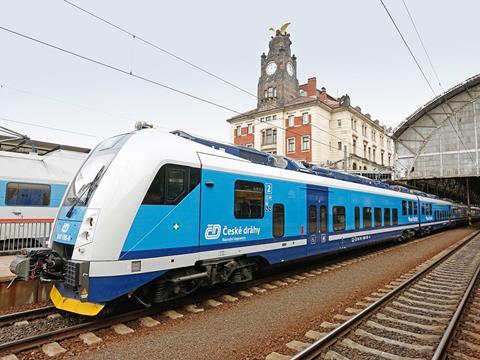 CZECH REPUBLIC: Italian station development venture Grandi Stazioni, owned 60% by FS Group and 40% by the Eurostazioni consortium, has lost its 30-year lease of Praha Hlavní station, after failing to complete the renovation of the historic building by the contractual deadline of October 16.
GS was awarded a 30-year concession by ČD in December 2003 to manage the commercial and retail spaces in the country's largest station, in exchange for a major renovation project which began in 2006. The New Concourse dating from the 1970s has been refurbished with shops and cafés, and was officially opened by the Czech and Italian presidents on April 14 2011. However, work on the older art nouveau part of the building designed by Josef Fanta in 1901-09 has been dogged by problems.
The target completion date of 2013 was extended by three years to October 2016. More recently, GS had requested a further extension of the deadline to autumn 2018, but infrastructure manager SŽDC ruled that this was not possible as it would violate public tendering law. On October 6 SŽDC gave notice that the lease would be terminated. It has now formally taken over the station, and is planning to conclude new leases with all retailers using the premises.
GS says the historic part of the station was in much worse condition than anticipated, requiring more investment and a longer schedule for the renovation work. It has threatened to take the matter to court, seeking Kc1·2bn compensation for loss of profits and money already spent on the renovation. The company is also claiming intellectual property rights to the project documentation.
GS successfully modernised Mariánské Lázně station in 2008-11 under a separate Kc93m package. However, another project at Karlovy Vary was dropped because of the poor condition of the buildings.