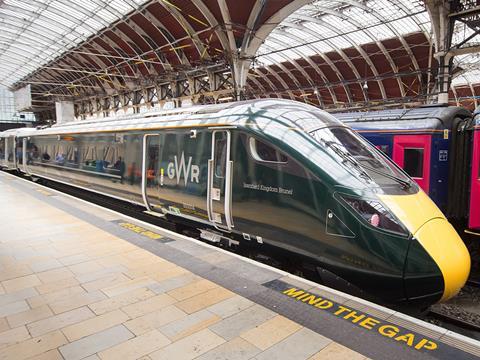 UK: Four 25 kV 50 Hz electrification projects planned as part of the Great Western upgrade programme have been deferred, Transport Minister Paul Maynard confirmed in a written statement to Parliament on November 8.
The deferred projects are:
Didcot Parkway – Oxford;
Bristol Parkway – Bristol Temple Meads;
Bath Spa – Bristol Temple Meads;
The Twyford – Henley-on-Thames and Slough – Windsor & Eton Central branches.
Maynard said he had decided to defer the projects because 'the benefits expected by passengers', including the introduction of new rolling stock providing more capacity, could be achieved 'without requiring costly and disruptive electrification works'. He said this was expected to save between £146m to £165m in the current regulatory Control Period 5 which runs until March 31 2019.
The change of plan would 'deliver those benefits to the greatest number of passengers in the shortest possible time', said Mark Langman, Network Rail's Western Route Managing Director, who said 'the programme remains complex and challenging but good progress is being made.'
Maynard said the government had 'been clear that there have been difficulties' with the Great Western electrification programme, which is now expected to cost £2·8bn, but replanning work following the review of Network Rail's enhancement delivery plan by NR Chairman Sir Peter Hendy plan meant that the programme has now been placed 'on a more efficient footing.'
According to the minister, the government remained committed to modernising the Great Western Main Line, and the decision to defer these electrification projects 'underscores the government's approach to wider rail investment; that passenger outcomes must be delivered in conjunction with achieving the best value from every pound spent.'
GWML passenger operator Great Western Railway told Railway Gazette that it was reviewing the implications of the announcement, and said its customers would be 'disappointed at these further delays to parts of the electrification programme'. However, GWR was 'determined our customers should not wait a day longer than absolutely necessary to see the benefits they're expecting from what will be the biggest fleet upgrade in a generation', including the delivery of Hitachi electro-diesel trainsets under the government's Intercity Express Programme.