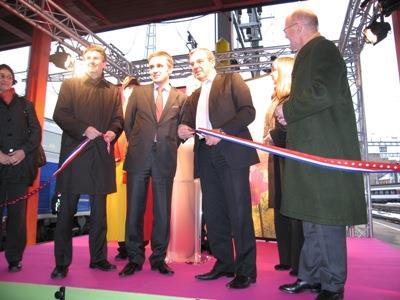 EUROPE: French Secretary of State for Transport Thierry Mariani and RFF President Hubert du Mesnil travelled on a special TGV service from Paris Bercy to Genève Cornavin on November 30 to mark the completion of work to rebuild the Haut-Bugey line between Bourg-en-Bresse and Bellegarde.
Reconstruction of the 47 km route, part of which had been closed in 1990, paves the way for the launch on December 12 of nine accelerated TGV services in each direction on weekdays between Paris and Genève. By using the Haut-Bugey line, TGVs will shave up to 22 min off the timings via Ambérieu and Culoz.
Running about 20 min late because of adverse weather, the special TGV Duplex called at Bourg-en-Bresse to collect local dignitaries and then proceeded over the reopened single track line to Bellegarde, slowing to cross the Cize-Bolozon viaduct over the Ain gorge to allow passengers to appreciate the spectacular scenery.
At Genève-Cornavin guests were greeted by Alphorn music before the Swiss and French national anthems were played. Mariani and his entourage then boarded a pair of Flirt EMUs that conveyed guests to the city's conference centre adjacent to the stadium for formal speeches and a cocktail reception.
The Swiss government, which had contributed 35∙5% of the €310m cost of rebuilding the line, was represented by Director of the Federal Transport Office Peter Füglistaler. The French government had paid €126m and RFF nearly €74m.
The project entailed electrification at 25 kV 50 Hz, relaying of all the track, replacement of 18 level crossings by bridges, installation of avalanche protection equipment and daylighting of one of the route's 11 tunnels.
A new station at Nurieux will be served by a daily TGV service to and from Paris.