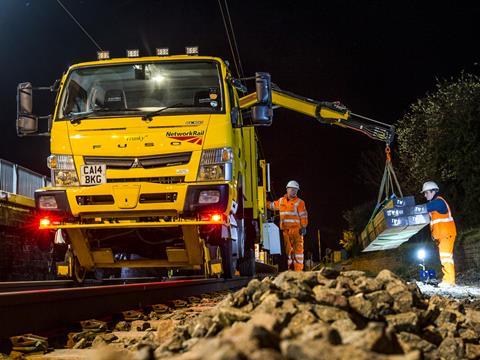 UK: On July 20 Secretary of State for Transport Chris Grayling published the High Level Output Specification setting out what the government wants the railway to achieve in Control Period 6, which runs from April 1 2019 to March 31 2024, as well as the initial Statement of Funds Available.
Grayling said the government was 'determined that the railway becomes more focused on issues that matter most to passengers, such as punctuality and reliability', and so the focus of the HLOS is on operations, maintenance and renewals of the existing railway. In the light of concerns about planning and poor cost control at Network Rail, enhancement projects are to be undertaken separately using a new process which the government intends to set out this autumn.
Grayling said 'on the basis of independent advice from the Office of Rail & Road, as well as from the rail industry', the government had agreed that an increased volume of renewals activity will be needed in CP6. However, he is concerned about affordability of the initial cost estimates, particularly for operations and maintenance, and requires more assurance on the likely costs of the programme before committing to specific levels of funding. Further work will be undertaken to examine the approach to setting appropriate levels of maintenance and renewals activity and improving NR's efficiency, before the finalised Statement of Funds Available is published by October 13.
Chief Executive Mark Carne said Network Rail would 'work closely with government and the industry over the coming months to develop our plans for further improvements for our railway in the five years to 2024'.
Paul Plummer, Chief Executive of the Rail Delivery Group which represents train operators and Network Rail, said the industry welcomed the continued commitment to five-year funding settlements. 'The railway is crucial to the economy and to the communities and customers it serves so it is right to allow extra time to ensure that decisions about how it is funded are got right', he said. 'It is crucial that routes, operators and suppliers continue to work together more closely at a local level to help inform these decisions and drive even greater efficiency in the industry.'
The Rail Supply Group, which represents the supply chain, added that certainty about future priorities and spending levels would enable investment in skills, technology and innovation. 'We urge government and Network Rail to pay careful attention to the issues that can be caused at the end of a Control Period and the start of another, but we welcome today's first major step in the CP6 process and, as a supply chain, look forward to working with them on this basis', said RSG Chairman Gordon Wakeford.