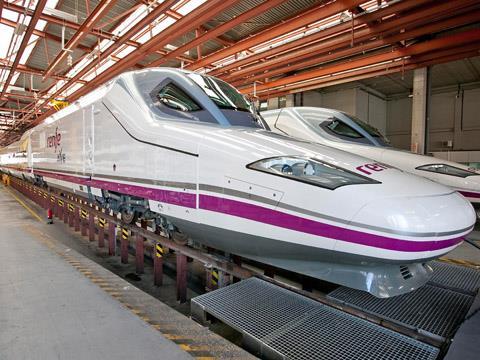 SPAIN: Development Minister José Blanco visited Santander on August 11 where he signed an agreement with Miguel Ángel Revilla, President of the Cantabria region, committing the government to completing a high speed line between Madrid and Santander by the end of 2015.
The third signatory, Cantabria's Vice-President Dolores Gorostiaga, pointed out the agreement included 'a sensible and intelligent' funding formula by which the route would be built under a concession regime, rather than the traditional works contracts awarded to date for high speed line construction in Spain.
Specifically, the Ministry of Development has agreed to call tenders before the end of March 2011 for three route sections between Palencia and Villaprovedo, with Villaprovedo – Reinosa following before the end of 2012. The ministry is to consider plans for the Reinosa – Santander section in the context of its national rail freight strategy which includes the existing Palencia – Santander route.
The three route sections between Palencia and Villaprovedo as well as two on the Valencia – Castelló route were the five rail contracts that Blanco had announced would be tendered on PPP basis when he appeared before a parliamentary committee on July 22.
Outlining his department's contribution to the government austerity programme (RG 6.10 p3), he said that of the 1116 new works contracts worth more than €1m each, 80% would proceed unaltered, 17% would be rescheduled (including 87 rail contracts) and 2·7% would be cancelled, including those now to be let on a concession basis.