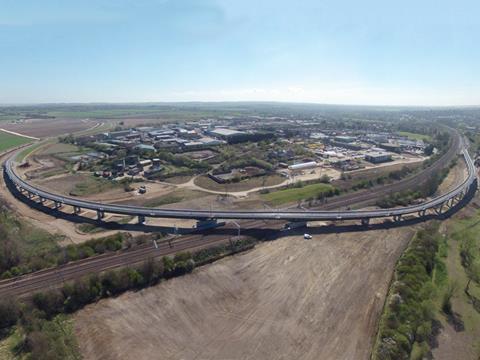 UK: Network Rail announced on June 26 that the first passenger services had begun to use the flyover at Hitchin, built at a cost of £47m to avoid the need for services to Letchworth, Cambridge and King's Lynn to cross the three other tracks of the East Coast Main Line on the level.
The infrastructure manager said the new 2 km single-track alignment will cut delays by nearly 30 000 min every year and create capacity for additional services.
First Capital Connect will initially run up to three services a day over the flyover. By December this is due to rise to almost 600 trains a week when some 300 drivers have been trained on the new route.
'The Hitchin flyover will make a real difference to passengers who travel on the East Coast Main Line, as well as people travelling to Cambridge and beyond', said Phil Verster, Route Managing Director, London North Eastern, at Network Rail. 'The work we have done has cleared one of the major bottlenecks on the route and is part of our wider effort to improve performance and increase capacity on the railway'.
Other projects being undertaken by Network Rail to increase capacity on the East Coast Main Line include the major remodelling of junctions at Shaftholme near Doncaster and Holgate near York, new platforms at Peterborough and an upgrade of the line between Doncaster and Peterborough via Lincoln to provide an alternative route for freight trains.